In our third IMMERSE message, we started with a video of NT Wright's recommendations for reading the Bible. Pastor Todd's subsequent message was about how God wants to open up the Bible for us to read, making His message to us clear through illumination.
HOW GOD OPENS YOUR EYES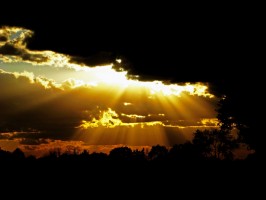 John 14:26 But when the Father sends the Advocate as my representative—that is, the Holy Spirit—he will teach you everything and will remind you of everything I have told you.
John 14:17 He is the Holy Spirit, who leads into all truth. The world cannot receive him, because it isn't looking for him and doesn't recognize him. But you know him, because he lives with you now and later will be in you.
Ephesians 1:18-19 I pray that your hearts will be flooded with light so that you can understand the confident hope he has given to those he called—his holy people who are his rich and glorious inheritance. I also pray that you will understand the incredible greatness of God's power for us who believe him.
WHAT HAPPENS WHEN GOD OPENS MY EYES?
1. I see the solution to my problem
Genesis 21:14-18   So Abraham got up early the next morning, prepared food and a container of water, and strapped them on Hagar's shoulders. Then he sent her away with their son, and she wandered aimlessly in the wilderness of Beersheba.When the water was gone, she put the boy in the shade of a bush. Then she went and sat down by herself about a hundred yards away. "I don't want to watch the boy die," she said, as she burst into tears. But God heard the boy crying, and the angel of God called to Hagar from heaven, "Hagar, what's wrong? Do not be afraid! God has heard the boy crying as he lies there. Go to him and comfort him, for I will make a great nation from his descendants."
Genesis 21:19 Then God opened Hagar's eyes, and she saw a well full of water. She quickly filled her water container and gave the boy a drink.
2. I see the barrier to my progress
Numbers 22:22-23  But God was angry that Balaam was going, so he sent the angel of the Lord to stand in the road to block his way. As Balaam and two servants were riding along, Balaam's donkey saw the angel of the Lord standing in the road with a drawn sword in his hand. The donkey bolted off the road into a field, but Balaam beat it and turned it back onto the road.
Numbers 22:27-28 This time when the donkey saw the angel, it lay down under Balaam. In a fit of rage Balaam beat the animal again with his staff. Then the Lord gave the donkey the ability to speak. "What have I done to you that deserves your beating me three times?" it asked Balaam
Numbers 22:31 Then the Lord opened Balaam's eyes, and he saw the angel of the Lord standing in the roadway with a drawn sword in his hand. Balaam bowed his head and fell face down on the ground before him.
3. I see the defense for what's attacking me
2 Kings 6:11-16 The king of Aram became very upset over this. He called his officers together and demanded, "Which of you is the traitor? Who has been informing the king of Israel of my plans?" "It's not us, my lord the king," one of the officers replied. "Elisha, the prophet in Israel, tells the king of Israel even the words you speak in the privacy of your bedroom!" "Go and find out where he is," the king commanded, "so I can send troops to seize him." And the report came back: "Elisha is at Dothan." So one night the king of Aram sent a great army with many chariots and horses to surround the city. When the servant of the man of God got up early the next morning and went outside, there were troops, horses, and chariots everywhere. "Oh, sir, what will we do now?" the young man cried to Elisha. "Don't be afraid!" Elisha told him. "For there are more on our side than on theirs!"
2 Kings 6:17 Then Elisha prayed, "O Lord, open his eyes and let him see!" The Lord opened the young man's eyes, and when he looked up, he saw that the hillside around Elisha was filled with horses and chariots of fire.
2 Kings 6:18-19 As the Aramean army advanced toward him, Elisha prayed, "O Lord, please make them blind." So the Lord struck them with blindness as Elisha had asked. Then Elisha went out and told them, "You have come the wrong way! This isn't the right city! Follow me, and I will take you to the man you are looking for." And he led them to the city of Samaria.
2 Kings 6:21-23 When the king of Israel saw them, he shouted to Elisha, "My father, should I kill them? Should I kill them?" "Of course not!" Elisha replied. "Do we kill prisoners of war? Give them food and drink and send them home again to their master." So the king made a great feast for them and then sent them home to their master. After that, the Aramean raiders stayed away from the land of Israel
4. I see that God is walking with me
Luke 24:15-19 As they talked and discussed these things, Jesus himself suddenly came and began walking with them. But God kept them from recognizing him. He asked them, "What are you discussing so intently as you walk along?" They stopped short, sadness written across their faces. Then one of them, Cleopas, replied, "You must be the only person in Jerusalem who hasn't heard about all the things that have happened there the last few days." "What things?" Jesus asked. "The things that happened to Jesus, the man from Nazareth," they said. "He was a prophet who did powerful miracles, and he was a mighty teacher in the eyes of God and all the people.
Luke 24:24-30 Some of our men ran out to see, and sure enough, his body was gone, just as the women had said." Then Jesus said to them, "You foolish people! You find it so hard to believe all that the prophets wrote in the Scriptures. Wasn't it clearly predicted that the Messiah would have to suffer all these things before entering his glory?" Then Jesus took them through the writings of Moses and all the prophets, explaining from all the Scriptures the things concerning himself. By this time they were nearing Emmaus and the end of their journey. Jesus acted as if he were going on, but they begged him, "Stay the night with us, since it is getting late." So he went home with them. As they sat down to eat, he took the bread and blessed it. Then he broke it and gave it to them
Luke 24:31 Suddenly, their eyes were opened, and they recognized him. And at that moment he disappeared!
PREPARING TO SEE WHAT GOD WANTS ME TO SEE
1. I must begin a relationship with Jesus Christ
1 Corinthians 2:14 But people who aren't spiritual can't receive these truths from God's Spirit. It all sounds foolish to them and they can't understand it, for only those who are spiritual can understand what the Spirit means.
2 Corinthians 4:4 Satan, who is the god of this world, has blinded the minds of those who don't believe. They are unable to see the glorious light of the Good News.
2. I must ask God in faith to open my eyes
Psalm 119:18 Open my eyes to see the wonderful truths in your instructions.
James 1:5-6 If you need wisdom, ask our generous God, and he will give it to you. He will not rebuke you for asking. But when you ask him, be sure that your faith is in God alone. Do not waver, for a person with divided loyalty is as unsettled as a wave of the sea that is blown and tossed by the wind.
3. I must come with a humble attitude
Psalm 25:9 He leads the humble in doing right, teaching them his way.
Proverbs 3:5-6 Trust in the Lord with all your heart; do not depend on your own understanding. Seek his will in all you do, and he will show you which path to take.
4. I must cleanse my heart of sin and conflict
Matthew 5:8 God blesses those whose hearts are pure, for they will see God.
1 John 2:11 But anyone who hates another brother or sister is still living and walking in darkness. Such a person does not know the way to go, having been blinded by the darkness.
5. I must commit in advance to do what God says
Psalm 119:33-34 Teach me your decrees, O Lord; I will keep them to the end. Give me understanding and I will obey your instructions; I will put them into practice with all my heart.

Podcast: Play in new window | Download
Subscribe: Apple Podcasts | Google Podcasts | Amazon Music | RSS