We extend our deepest condolences to the Winger family on the passing of Bruce Winger this past Monday. Our church wouldn't be here if it wasn't for the faithfulness and obedience of Bruce and his family. May God be a comfort to the family and to all those who have known and loved him.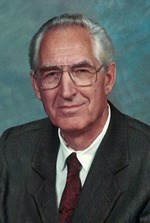 Obituary of BRUCE WINGER:
Of Kitchener, Ontario, passed away peacefully on April 1, 2019 after reaching the age of 88. Bruce was a wonderful man who was loved and will always be cherished. Bruce, also known as Grandpa Winger by his grandchildren, was a loving husband, father, grandfather, and great-grandfather.
Bruce's story starts on August 8, 1930, when he was born to Samuel and Rosie (Mantle) Winger. He grew up in Vaughn Township, where he would spend his childhood working hard on the family farm with his five brothers: Floyd, David, Murray, Keith, and Paul. After graduating from Niagara Christian College, Bruce went on to marry the love of his life, Delores Albrecht, at Rosebank Church on August 18, 1951.
Bruce was a man of strong faith, leading by example, and shaping his family's spirituality with his dedication to Jesus Christ. Bruce served on the board, was treasurer, and a deacon for many years at Rosebank BIC and Westheights BIC Church. Bruce believed in the power and strength of the Lord's love and the beauty and peace awaiting him in heaven.
Married for 67 years, Bruce and Delores raised their seven children, Gary, Lewis, Bonnie, Douglas, Darrell, Lee, and Dianne, on their farms in Vaughn and Whitchurch Townships, New Hamburg, and then eventually moved the family to Kitchener in 1969, where Bruce worked as a salesperson for Hurst Farm Equipment for many years.
Bruce has been a major presence in the lives of his children and grandchildren. He always enjoyed engaging conversations and healthy debates about life and politics with his friends and family. For years, Bruce and his sons would meet for coffee every Friday morning, where they would solve the world's problems in an hour.
Bruce is survived by his beloved wife Delores, children Gary (Sylvia), Lewis (Julie), Bonnie (Arthur Krempin), Douglas (Mary Jane), Darrell (Anna), Lee (Ann), and Dianne (Philip Illman).
Bruce was cherished by his many grandchildren: Chad (Vivian), Amberly (Justin), Justin, Sheree (Marcel), Stephanie (Christian), Miranda (Aaron), Andrew (Kayla) Krempin, Derek (Ashley) Krempin, Joshua, Jenna, David, Samuel (Christina), Abbie, Jesse, Rachel, Emily, Dini, Jade, Danielle Illman, Christian Illman, and seven great-grandchildren: Yasmine, Jordan, Parker, Spencer, Griffin, Jonathan, and John Darrell.
He is also survived by brothers Keith (Edith) and Paul (Pat); sisters-in-law Ellen and Bev; brothers-in-law Dan (Muriel) Albrecht, Ron (Sharon) Albrecht, Harold (Darlene) Albrecht and Dale (Judy) Albrecht; and sister-in-law Ruth Potteiger. Predeceased by brothers Floyd, David, and Murray, sister-in-law Doris; brothers-in-law Mervin Potteiger, Ray Albrecht, and sister-in-law Betty Albrecht.
Bruce was a loving, kind, and faithful man who was dedicated to his wife and ever-growing family. He will be loved and missed by many.
Bruce's family will receive relatives and friends on Thursday, April 4, 2019 from 2:00 pm-4:00 pm and 7:00 pm-9:00 pm at the Henry Walser Funeral Home. A funeral service will be held in the chapel of the Henry Walser Funeral Home on Friday, April 5, 2019 at 11:00 am. Reception to follow at the funeral home. Interment at Rosebank Cemetery, at a later date.
As expressions of sympathy, donations to BIC Canada – Global or Mennonite Central Committee would be appreciated by the family (cards are available at the funeral home).