This Sunday (October 24, 2010) we have a special service planned with missionary speakers Trevor and Sherry Main and their children Kyle and Christina. They are home from the mission field and now live in the New Hamburg community. They even have relatives in our church (Shane and Heather Gallian). We look forward to them sharing about their adventures overseas. There will be a special after-service dessert and coffee time so that we can also visit together.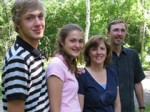 Both Trevor and Sherry graduated from Emmanuel Bible College, Kitchener, Ontario, with degrees emphasizing missions. During their early college days they found themselves serving together on the college's missions committee and met regularly at mission's prayer meetings. During the summer of 1988 Trevor and Sherry participated on short-term mission assignments. Trevor served with the Northern Canada Evangelical Mission in the North-West Territories among the Dene people, while Sherry served with the Mennonite Board of Missions, working with the children of migrant workers in Colorado. Their common interest in missions was a very significant part of their growing relationship. They were married in 1990 in the Zurich Mennonite Church.
In their final years of study before graduation from college, Trevor and Sherry had shared their interest in missions with Bishop Harvey Sider of the Canadian Conference. Bishop Sider encouraged them toward pastoral service in North America as a means through which God could further prepare them for future missionary service. In a manner beyond their imagination, God opened a door for service at the congregation that they were attending at the time. Trevor and Sherry were invited to begin serving as the pastoral couple at the Rosebank Brethren in Christ Church, Ontario, Canada, in January 1991. Trevor was ordained in April 1995. Throughout their more than six years of service at Rosebank, they found joy in ministry, grew spiritually, and learned many valuable lessons. In June 1997 they began their ministry with Brethren in Christ World Missions, first studying Spanish for one year and then moving to Venezuela in August 1998 where they served as missionaries for six years.  In July 2005 the Main family moved to Colombia in order to help work toward the establishment of a conference of churches.  Trevor keeps in contact with the church in Venezuela through regular visits and correspondence, partnering where possible to facilitate the growth and development of the congregations there.
Trevor and Sherry have two children,  Kyle and Christina.