THE FIRST CANDLE OF ADVENT
(The Candle of Prophecy/Hope)
The first candle is sometimes called the candle of prophecy because it symbolizes the promises the prophets delivered as messages from God; promises that foretold Christ's birth. Others consider the candle to be a symbol of the hope we have in Christ and so it is called the Hope candle.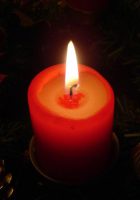 Prophetic Verse:  "Arise, shine; for your light has come, and the glory of the Lord rises upon you. See, darkness covers the earth and thick darkness is over the peoples, but the Lord rises upon you and His glory appears over you." Isaiah 60: 1-2
The Fulfillment of Prophecy:  "So you also must be ready, because the Son of Man will come at an hour when you do not expect Him ."  Matthew 24:44
Read
Isaiah 11:1-10
Challenge
Discuss the hope of Advent—the hope we have because of Christ's birth and the hope we have in Christ's second coming.
Quote
"Are you willing to believe that love is the strongest thing in the world – stronger than hate, stronger than evil, stronger than death – and that the blessed life which began in Bethlehem nineteen hundred years ago is the image and brightness of the Eternal Love? Then you can keep Christmas."
(Henry Van Dyke)