Parenting advice shared on Dateline that could save your child's life, including:
How would your child respond to a stranger knocking at your door? Are you sure?
How to Teach Safety Smart skills
6 Critical Safety Skills Every Child and Teen Should Learn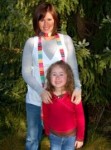 Dr. Michele Borba, a parenting expert, author of 22 books, speaker and educational consultant, shares this advice on her blog called "Reality Check: Blogging About Parenting Issues and the Solutions to Solve Them".
Here's the article:
Hope you find it useful.