THE THIRD CANDLE OF ADVENT
(The Candle of Joy)
The third candle indicates that the only lasting Joy to be found in life on earth is through Christ. All other joy is fleeting and does not last.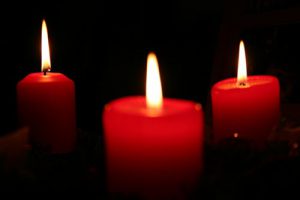 Prophetic Verse:  "…and the ransomed of the Lord will return. They will enter Zion with singing;  everlasting joy will crown their heads. Gladness and joy will overtake them, and sorrow and sighing will flee away." Isaiah 35:10
The Fulfillment of Prophecy:  "When He came near the place where the road goes down the Mount of Olives, the whole crowd of disciples began joyfully to praise God in loud voices for all the miracles they had seen:  'Blessed is the king who comes in the name of the Lord! Peace in heaven and glory in the highest .'"  Luke 19:37-38
Read
John 1:19-34
Challenge
How does God's redemption grant us joy?  Discuss how to be joyful even in brokenness.
Quote
"And the Grinch, with his Grinch-feet ice cold in the snow, stood puzzling and puzzling, how could it be so?  It came without ribbons.  It came without tags.  It came without packages, boxes or bags.  And he puzzled and puzzled 'till his puzzler was sore.  Then the Grinch thought of something he hadn't before.  What if Christmas, he thought, doesn't come from a store.  What if Christmas, perhaps, means a little bit more."  (Dr. Seuss)