The first week is over! It's hard to believe that our trip is half done! Today was supposed to be our rest day but it turned out to be the opposite! We climbed up an active volcano and then some of us slid down it. It's called "sand boarding". The name of the volcano is Cerro Negro.
We had to be ready for 8am so we didn't have much time to sleep in. I had no trouble with that! I was woken up at 5:30am by firecrackers that sounded like they were right outside the window! It was crazy. At 8am a big van came to pick us up and it took us to the Tierra Tours office, which is the place where the volcano hike was booked.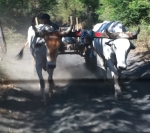 From there we took a 45-minute drive to the volcano. And boy, oh boy was the ride ever bumpy! All the roads that we took were either dirt or sand. The interesting thing was seeing the farmland in Nicaragua. Also, it was amazing to see how some people live! It is so sad to see some family's houses. Some were just little, square huts made from wood.
When we arrived we got our packs and sleds and started on our trek. (Oh yeah, Matt and I got a picture in front of the volcano with our Downtown Magnetawan shirts. Hopefully we'll be able to send our picture to the General Store!)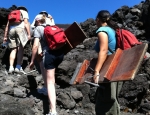 The first part of our trek was the easiest. We just had to walk over rocks, which was not too bad. They were just volcanic rocks and they were very light. The second part of our trek was the hardest. It was SO windy as we made our way up the volcano. If I was holding my sled a certain way, then the wind would push me a bit. That was scary. Luckily, we didn't have to climb straight up the volcano. We wound around it. The last part of our trek was pretty easy as well except for the wind. If you weren't careful the wind could have pushed you off the side of the volcano. The top wasn't as rocky as the bottom. It was more of a fine sand than actual rocks. While we were at the top we walked to the part of the volcano that spews out lava. We got to touch some sand there and it was really hot!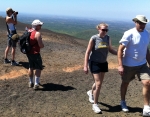 The second part of our adventure was sand boarding. Matt, Amanda, Paul, Katlyn, Josh, Doug, Elsie and myself got all decked out in our gear. You will probably see pictures soon! I, personally, didn't enjoy sand boarding that much (I wiped out twice!) but many of the others enjoyed it. As I was going down the hill little rocks were flying into my face. It got to a point where I couldn't even open my mouth to breathe without swallowing pebbles. When I got to the bottom of the hill my face was caked with dirt. Sooo nasty! When I took off my suit piles of dirt fell out.
All in all, it was really great to experience – another one of God's magnificent creations! Thank you all for your continual prayers and support.
UPDATE: Additional pictures of the volcano climb have been uploaded to Facebook.