Hello Westheights Community Church family, and a special greeting to Queens Blvd. House Church. I know each one of you has been praying for one of us everyday and it is greatly appreciated. We are all getting to know one another on a more personal level and it is good to have this connection with more of my church family.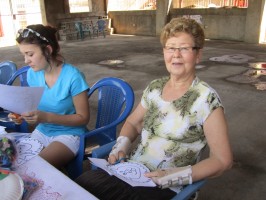 Our first week is finished and I hope we are helping these children "build a strong foundation on a rock". There is so much poverty here that it almost makes you weep. That would be the wrong thing to do. Most of the children look loved and well cared for and are always smiling. I have never seen such beautiful smiles on children's faces as I have seen here. They hug you like they never want to let go. They have so little, the minimum and maximum wage per month is between 150 – 250 dollars a month. The grocery store prices do not reflect this.
Each of us has a group of children that we work with for the entire two weeks that we are here. This way we build a better connection but can't help falling in love with them. Katlyn and I work together with our groups and this works well. I like the younger children and she works with the older ones. The little ones require a lot of attention and don't always care to participate in some of the activities.I have one sweet little boy called Abraham who is super hyper active. His attention span is about 30 seconds. He doesn't really know how to colour but he likes to play with the crayons. He goes from sitting on his chair to standing and then climbing on top of the table and underneath the table. If he comes early Katlyn likes to play with him one-on-one and that works well. I wondered what his background was and it is almost unbelievable. A very old man was at every church service and it turns out he is Abraham's grandfather. He looks after his 7 grandchildren. Abraham is the youngest. These 7 children are brothers, sisters and cousins. Abraham hasn't been with his mother since he was one year old and is now 3. The oldest girl is 15 and carries a lot of the responsibility.
The parents go off to different parts of the world to earn a living since there is very little employment here. Most of the children coming here are cared for by grandparents (mostly just one), or uncles. It's a different culture and a different way of life.
I do have one sad little girl in my group. She is very shy or frightened; I'm not sure which. She rarely speaks and just likes to colour the entire time. When I encourage her to join the activities she clings to her chair and doesn't want to move. It took all week but on Friday I got a big smile and she joined in one of the singing groups. This warmed my heart and that's what it's all about. There are some sad stories and some beautiful stories. The children all take care of each other and show a great deal of love for one another. We could all learn some lessons from them. When I think of the conditions here versus at home it makes me feel ashamed. We are such a want-more society and we have so much.
There are not many people that come to the church. The service is extremely different to what we are used to. There is a lot of singing (no instruments), scripture reading, and a message. The children participate in the service by taking turns singing and smiling the entire time from ear to ear. I didn't understand one word that was spoken. I did understand that they were genuine in their praise to God. They greet each of us with hugs, warm hand shakes, and smiles. They are loving and caring people who love the lord.
As I said on Sunday's video to Westheights that everyone should experience at least one mission trip in their life time.