Don't miss this inspiring and motivational message by Michelle Brenneman, who spoke on "Taking on the Systems of Oppression".
TAKING ON THE SYSTEMS OF OPPRESSION
Q: How do you eat an elephant?
A: One bite at a time
1. DEFINING THE ELEPHANT
Oppression is the experience of repeated, widespread, systemic injustice
2. TAKING THE FIRST BITE
a) The Call to Respond (Matthew 20:25-28, Jeremiah 22:16)
b) The Cost of Responding (1 Peter 4:12-13)
c) Ways to Respond:
i.   Learn about what's going on
ii. Speak up (Proverbs 31:8-9)
Iii.  Share our resources (1 John 3:17-18)
What resonates with me personally today is: _____________________________________________
AS A RESULT OF TODAY …

d)  Resources to get you started
i.   The SEE JUDGE ACT Method:
SEE
What is happening?
Who are the people involved?
Who gains from this situation? Who loses?
What is the situation doing to people?
Why is it happening? Why does it continue?
JUDGE
How do you feel about this situation?
Have you ever behaved or acted like anyone in the situation? If so, what happened? Why?
How did you and/or those involved feel?
What do you think should be happening?
What does your faith say about it?
ACT
What can we do to bridge the gap
between what is happening (the reality) and what
should be happening (the ideal/what our faith says)?
What action are we going to take?
Who can we involve in our action?
ii. The Radical Experiment (David Platt). The Radical is a book by David Platt. This radical experiment is found in the back of the book and on his website and is a year-long commitment to five specific challenges:
Pray for the entire world: Pray together for the entire world over the course of a year.
Read through the entire Word: Using a chronological Bible Reading plan, read through the entire Bible.
Commit your life to multiplying community: Commit to a small group that is intentionally sharing, showing, and teaching the Word while serving the world together.
Sacrifice your money for a specific purpose: Look at all of your expenses as individuals and as families through the lens of specific need in the world. Work to set a cap on your lifestyle so that you can free up as much of your resources as possible
Spend your time in another context:  Commit, as individuals and families, to give 2% (one week) of your time in ministry outside of your community for the sake of God's glory in all the world.
iii. The Step Model for Action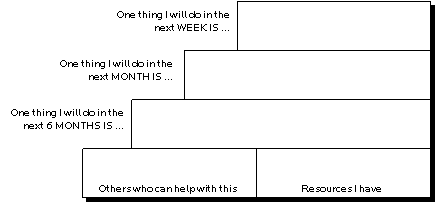 iv. Everyday Justice (Julie Clawson). A book about how our everyday choices impact our world and what we might begin to do about it.

Podcast: Play in new window | Download
Subscribe: Apple Podcasts | Google Podcasts | Amazon Music | RSS