Betty Albrecht, wife of Harold Albrecht, passed away Wednesday afternoon, May 4, 2011, at Hamilton General Hospital as a result of a spontaneous intracranial hemorrhage. Many of you may remember meeting her and her husband when she came to Westheights Church as a representative of BIC World Missions on April 10 during Living Red. Please continue to pray for the Albrecht family as they deal with this sudden loss.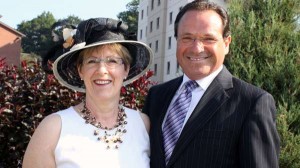 Visitation is being held at the Mark Jutzi Funeral Home in New Hamburg (291 Huron Street) this Friday and Saturday from 2 to 4 p.m. and 7 to 9 p.m.
The funeral will be held on Sunday at 2 p.m. at the Community Christian Reformed Church, 1275 Bleams Road (corner of Bleams Road and Fischer-Hallman) in Kitchener.
In lieu of floral tributes, the Albrecht family encourage donations to any of the following organizations:
Mennonite Central Committee
50 Kent Avenue
Kitchener, ON  N2G 3R1
Phone: (519) 745 – 8458
Brethren in Christ World Missions
2700 Bristol Circle
Oakville, ON  L6H 6E1
SPICE
Scholarship Program for International Children's Education
2700 Bristol Circle
Oakville, ON  L6H 6E1