Parents of Grade 3's, 4's and 5's: Good news! More space is a comin'!
Beginning this Sunday, January 15th, your son/daughter will be enjoying some new space for On Your Mark! small-group activities…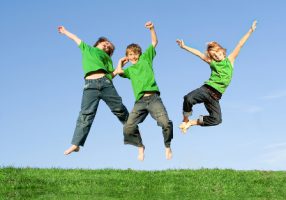 Westheights' growing Jr High ministry has moved their Sunday morning experience offsite—to Westheights Sr. Public School. (If you're a parent of a Jr High student, please click here for more details!)
The move has so many benefits for our Jr Highs, with the added bonus of being able to move part of our Grade 3/4/5 small-group experience to the WSM Room in the Office Complex (portable). This new meeting area will be much more suitable for small-group games, crafts, discussions and teaching. Currently, the Grade 3/4/5's have had to meet in our Central room on the lower level, where the distractions of poor acoustics, peripheral noise, high-traffic and shared space have been a challenge.
Please sign your child in as usual at the Hub on the lower level; he/she will continue to meet for a Plug In/Snack Time and Large-Group session in the main room, but will later have the run of the WSM Room for Small-Group time. Yahoo!
Dismissal time for On Your Mark! remains the same: 11:45am. (If the service ends before 11:45am, please take some time to enjoy some coffee/connect time.) Pick your child up from the WSM Room. Thanks for your flexibility!