This one-day seminar will discuss how we minister the healing grace of Jesus to those who have physical and emotional wounds as well as to those who have been wounded by well-meaning ministries. There are different views toward healing. Some have determined that scripture refers only to spiritual healing, while others hold the belief that this promise encompasses physical and emotional healing as well. Some have sought God and experienced physical or emotional healing first hand, while others have sought God for the same result, and have yet to receive it. Many in the process of seeking healing have been further wounded by well-meaning ministries that have placed blame on them for not having enough faith, or accused them of not fully repenting of sin.
Seven locations and dates to choose from, but the only Canadian seminar will take place at Westheights Community Church (Kitchener, Ontario) on Monday, March 19, 2012.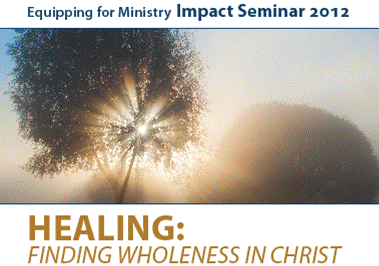 Seminar objectives:
To unpack a definition of healing.
To examine how healing is seen in the scriptures, and what part scriptures play in healing.
To review the promises, covenants, examples, and instructions regarding healing in the Bible.
To observe biblical methodology regarding healing, and consider which of them to employ – when.
To look at healing in the ministry of Jesus, the apostles, and the early church.
To provide an overview of the Brethren in Christ views and understanding of healing, historically and today.
To discover a personal perspective on healing and ministry as a Christian today.
To develop an understanding of the will of God as it relates to healing.
To explore roadblocks to healing.
Within the context of healing and sickness, to assess how we view the power of the risen Christ juxtaposed with the power of Satan, who is intent on our destruction.
To consider how we stay balanced in our walk as it relates to healing and yet apprehend all that God has for us.
Presenters are Tim Harden, pastor of Rosebank BIC Church, and Steve Smith, pastor of Upland BIC Church in California.
The cost of this one-day seminar including two breaks and lunch is $70.00. Click here to go to the BIC website for more details and registration information. If you are interested in attending, speak to Pastor Todd Lester about possibility of reduced rates for bulk registrations.