So, how goes the sport, SMC team??? Or should I say, the training? When they said memorizing Scripture was a discipline, they weren't kidding, eh? (Who really has time or brain power left over, after the daily workout of life?) But I'm excited–for you, and for me…Because you don't have to be an athlete (Phew!) to know that there's strength, development and exhilaration in the deal as well!
And that's because it's not just about memorizing these beautiful, ancient words; it's about reading them, studying them, meditating on them, and really listening–for what the Holy Spirit, our Teacher and Comforter, is saying to us through His living, active Word. While I scramble and stumble to hold these words in my mind, to keep them there, word for word–Evidently, my very mind is non-athletic, like me!–I do love looking and listening, for what my next verse might be…I love exploring a verse, connecting it to mental images that make it come alive…Mulling it over as I'm waking up, and as I'm drifting off to sleep…Reading the passages around it, wondering what I might be missing, seeing the parallels in my own life. There is nothing like the feeling that comes when we realize the God of the Universe can speak to us personally–is speaking to us personally–through these age-old words…
Ah, and that's not to say that there isn't a challenge–a struggle, even–to keep it accurate by actually memorizing it… (What has happened to my brain??? It's lost it's elasticity. Or was that plasticity? Whatever. What malleable, connected parts there once were have been replaced by memory-draining voids strewn throughout, in unpredictable patterns…)
If you have any learning tips, please send them my way! Better yet, post them!
Speaking of which, here are a few ideas that fellow SMC participants have mentioned recently:
1) For those with stronger visual memory:
Use your verse as your wallpaper on your phone home screen. Ingenious!
Find a creative way to post your verse close to the bathroom/bedroom mirror, where you mindlessly primp and floss in the morning and evening.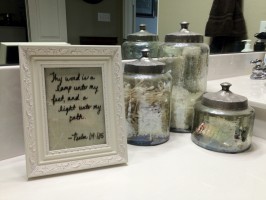 2) For those with stronger auditory memory:
Find a group to team up with…With elementary-aged kids, we often have them go around the room, each child saying the next word of a verse. Recruit your family's help, and go 'round the dinner table every night!
Say it, say it, say it…Or, if the process of speaking actually messes you up–auditory learners often avoid speaking aloud while they're trying to process something they're hearing–record your own voice on your phone. Play it back as often as you dare! Or consider using a recording of your verse as your ringtone! 
I'm planning to try some of these this time around…With this verse, in fact:
Charlene Neuman
…if my people, who are called by my name, will humble themselves and pray and seek my face and turn from their wicked ways, then I will hear from heaven, and I will forgive their sin and will heal their land.
2 Chronicles 7:14 (NIV)
Join the Scripture Memory Challenge–even if you're not on a Westheights Kids Team…It's never too late! As a way of nudging each other on, post your verse, or verses, in the Comment Section below. Include your name (if you'd like) your verse, the reference and translation. (See the format I used above.) During Immerse, you'll see a blog entry every 2 weeks, instead of monthly. For more info on the what and why of this adventure, click here.