Even though I am not Catholic I love the story of St. Patrick. It is interesting reading. Since today is St. Patrick's Day, in service we watched a modern version of his famous prayer called the "prayer for the faithful."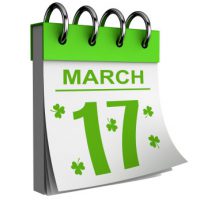 According to "Our Catholic Prayers," it captures the wonderful spirit that made him Ireland's patron saint. Born in Britain shortly before the 5th century, St. Patrick was taken captive to Ireland by raiders at the age of 16. He lived there for six years as a shepherd under harsh conditions and became intensely devoted to God in prayer, as he puts it, "because the spirit was then fervent within me."
In this prayer he asks for God's help.
May the Strength of God pilot us.
May the Power of God preserve us.
May the Wisdom of God instruct us.
May the Hand of God protect us.
May the Way of God direct us.
May the Shield of God defend us.
May the Host of God guard us.Against the snares of the evil ones.
Against temptations of the world
May Christ be with us!
May Christ be before us!
May Christ be in us,
Christ be over all!
May Thy Salvation, Lord,
Always be ours,
This day, O Lord, and evermore. Amen.