Jr. Highs – the air is getting warmer and the days longer. You may be feeling the squeaky stiffness from the winter shaking off and are ready to get out there and do something fun. Well what better way is there to welcome in the Spring then to grab a putter and go golfing!
We'll be meeting at Bingemans FunworX for a night of mini-putt, snacks and video games on Friday, May 3rd at 6:30PM. Cost is $10 which gets you a game of mini-putt PLUS 20 ARCADE TOKENS. Bingemans "Hole in Fun" course is a classic mix of neon-soaked themes, inventive hole designs and inventive hazards that will test your putter skills like none other. Also the Fun Worx arcade is packed full of fun games and arcade classics like Pac-Man and Skee Ball. We've even seen some Jr. Highs get a 500 tickets on one game! Be sure to bring extra cash if you would like to buy something from the snack bar (we have found that it's actually fairly reasonably priced!) or would like to get extra arcade tokens.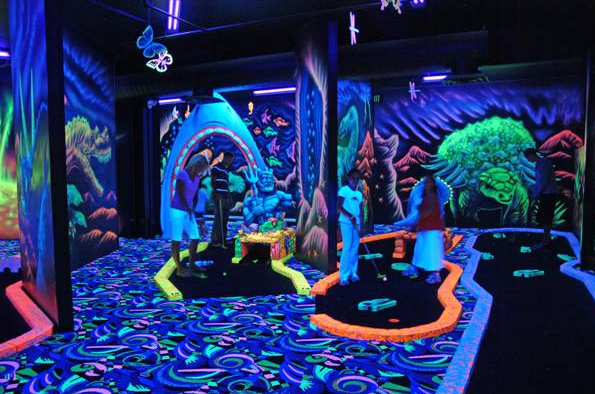 RECAP:
WHAT? Jr. High Glow-in-the-Dark Mini Golf
WHERE? Bingemans FunworX – 425 Bingemans Centre Drive, Kitchener, Ontario N2B 3X7
WHEN? Friday, Nov. 23rd from 6:30-8:30pm
HOW MUCH? $10 per person (covers 18 holes of mini golf, plus receive 20 arcade tokens!) plus any extra cash for the snack bar and/or extra arcade tokens
REMINDER: Please be sure to always stay with a buddy or two (even when heading to the washroom) and make sure a leader knows where you are at all times!