Leader Impact Group sponsors Leadership Forums, a unique environment for marketplace leaders that couples great leadership input with a foundation of spiritual values.
The next big event in the KW area is a Leadership Forum with Paul Henderson, in the form of a special breakfast on Wednesday, June 5, 2013 from 7:00 AM – 8:45 AM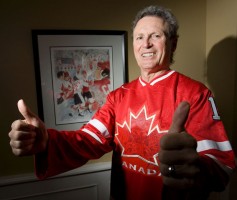 Paul Henderson played professional hockey for 18 years, mainly in Detroit and Toronto. However, he is most known for scoring the "Goal of the Century", the winning goal that clinched the victory for Canada against Russia in the 1972 Summit Series. Paul has been inducted into several Sports Halls of fame including Canada's Sports Hall of Fame.
Since retiring from professional hockey, Paul has co-authored several books (the latest "The Goal of My Life: A Memoir") and has developed into a top motivational speaker. He draws on his experience from the competitive professional sports world to help leaders in the business world navigate through issues like teamwork and leadership.
Join Paul as he shares his powerful faith journey and how it relates to life, leadership, character, and family.
Date & Time: Wednesday June 5, 2013 7:00 am – 8:45 am
Location: Hilton Garden Inn
746 Old Hespeler Rd, Cambridge, ON
Price: $25 / per person
Register online: leaderimpactgroup.com/category/events
Contact: John Havercroft
johnh@leaderimpactgroup.com