Is it just me, or am I surrounded? Or have they been all around me all along, shifting and scurrying, while I took little notice? They seem to be everywhere: people of all ages and stages who've lost their jobs, are in danger of losing their jobs, are strategizing to begin new careers, are networking–poising themselves for new opportunities, are going to school with high hopes of beginning a first, second, fifth career? Young and–dare I say it–old alike…Family members, friends, neighbours and acquaintances, all in transition–firmly outside of the preferred illusion of security we all create for ourselves. All industriously about the business of getting back in.
And behind it all, the restless desire to make the right move…Which always begs the question: What is the bigger plan? Why do we always feel we need to know? Is it culture-specific, this need to plan, to know, to move towards a purpose? Or are we wired to want to know? How anxious we become when we're between Google directions in life! And that's provided that we've identified our dream, our destination. Most of us don't really know the address we're supposed to enter…
But if the destination has to remain unknown, can we at least have some assurance that we're on the right road??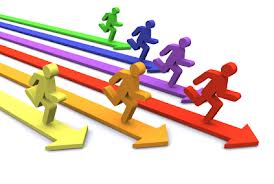 Ah, and therein the challenge of my next set of Scripture Memory verses…
"For I know the plans I have for you," declares the Lord, "plans to prosper you and not to harm you, plans to give you hope and a future."
Jeremiah 29:11 (NIV)
This is what the Sovereign Lord, the Holy One of Israel, says: 
"In repentance and rest is your salvation, in quietness and trust is your strength…"
Whether you turn to the right or to the left, your ears will hear a voice behind you, saying, "This is the way; walk in it."
Isaiah 30:15a, 21 (NIV)
We are so much like the people of Isreal, to whom these prophets wrote. Needing not only to see the plan, but to see it unfolding in a way that strokes our sensibilities…Running to the comfort of the known—even to the system that has already let us down…Leaning on the pillars of accomplishment and wealth, rather than trusting that we will hear the voice of the Living God at just the right time.
In June and July, I plan to meditate on these verses, asking the Sovereign One to build my faith and trust.
June is here, Westheights Kids teams–our last hurrah! If you're planning on memorizing Scripture this month, post your verse or passage in the Comment Section below. Tell us your name (if you'd like), the verse, reference and translation. And we'll spur each other on!
Many thanks to all who've been participating—through our blog entries, in small groups, or privately. Thanks most of all for being great role models for our Westheights Kids, and for sharing with them your love for God and His Word. I'm taking my personal challenge to the end of the calendar year, so although our Scripture Memory Challenge officially ends this month, join me if you will, and we'll continue to encourage each other in this important discipline. (Send me what you're working on by email, and I'll send you mine!) On your mark! Get set…