Do you have a bicycle? Do you like to ride? Does your family like cycling together? Want to make new friends? Do you like the outdoors?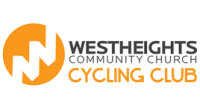 Introducing the "Westheights Cycling Club!"
Grab your bike and join us for some cycling rides this summer and fall.
The first ride is on Sunday, June 23rd afternoon. You are welcome to join us for the rides that suit your schedule.
The first four rides are listed on the new Cycling website including starting time and location, length, route map, and a description.
The cycling website also provides additional details and answers a number of questions on its FAQ page such as:
How do I join?
Who has to sign the waiver form (e.g. children?)
Is there a minimum age?
What type or terrain? Ride speed? (pssst, casual!)
Bicycle issues?
Ride cancellation?
and much more
Can you help? Please take this quick survey to tell us when you like to ride, what duration, etc., to help us schedule rides at the most convenient times.
Subscribe to the cycling mailing list to find out about upcoming rides and for last minute ride cancellations.
See you on the trail!
PS: Don't forget to download and sign a waiver form for each person and bring it to your first ride. We'll have spare forms at the ride as well if you forget.