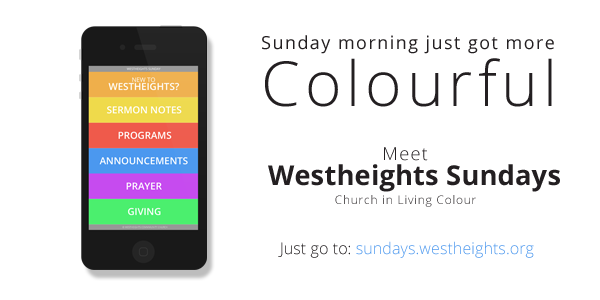 Sometimes, we try something at Westheights that we think is just plain awesome. We're always looking for ways to connect people and to take technology and make it human and useful. To use it to help us in our desire to grow spiritually and not just as a distraction. Today, we're launching Westheights Sundays, a digital platform for everything that happens on a Sunday. All you have to do is, on almost any device*, go to
and you'll be blown away with a rich, colourful set of buttons designed to make your Sundays easier, simpler, and more fun! If you're new to Westheights, you can find out helpful information and maps to our Kids and Students programming. Get the latest Announcements about news and events at Westheights right in your pocket – so you'll have no excuses to miss a great event. You can ask for Prayer or even contribute your Giving right from your phone! And with the new-and-improved Sermon Notes, you'll never miss a blank again. You can even bookmark the site right to your iPhone or iPad by saving it as a web app.
Simply tap the share button,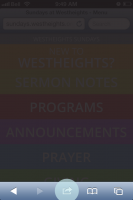 Tap "Add to Home Screen",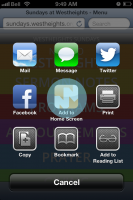 Give it a name, and save!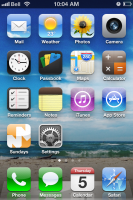 For Android users, simply:
Bookmark "sundays.westheights.org"
While on Westheights Sundays, Press Menu then select Bookmarks
Long press any bookmark and click Add Shortcut to Homescreen
Westheights Sundays is designed to be easy to use and fun. Give it a try this weekend and we doubt you'll ever want to do without it.
*Most phones with a modern web-browser (produced after 2007) will likely work (your Nokia 6110 is out of luck), and we have tested it with the most popular Apple, Android, and Blackberry devices. However if you encounter a problem with your device or have any ideas for us, let us know at sundays@westheights.org