Todd was gracious enough to give us the day off today. We took full advantage of it!! We were up and at 'em by 645 and had cereal and fruit for breakfast at the hotel.
We went to the National Park in Granada, the capital of Nicaragua. Trevor did a masterful job navigating through the city centre market. There was quite a flurry of activity. We then went on a one hour boat tour on Lake Nicaragua. We had a problem with the boat listing too much to one side so we had to embarrass Melanie and ask her to switch sides to even things out. Lake Nicaragua is the largest fresh water lake in Nicaragua. It is also the only fresh water lake in the world where there is a population of Bull sharks (no we didn't see one). There are 375 islands on the lake that formed after the side of the Mombacho volcano. We could see the very larger crater/indent that it left in the side of it. This has happened twice, the last time was a few thousand years ago. As we went along the shore, we saw many howler monkeys. Our guide taught us how to call them and I even gave it my best shot!
There was a primary school on one of the islands where kids would travel to in row boats. It is called 'Hope' school and has one professor that teaches all of the students. I don' believe they have a soccer program as they would be swimming for a lot of balls if they missed the net!
We also saw a Catholic church on one of the islands. The guide told us they do 14 stations of the cross at different islands.
We also saw a bird they call the 'Beach chicken'. It was the cutest little bird and they say it is the only one that can walk on top of lilly pads.
Many of the islands are owned by the wealthy. There is one particular Swiss owner that helps residents in his area with funding and helping them to maintain solar power to properties that don't have electricity.
We had a wonderful lunch and fellowship at a restaurant beside the marina. Rudy was brave and ordered a fish that looked like it could still do some harm if not handled properly. Karl and Terry followed suit. And no, I didn't introduce myself to anyone new there (ask me about this some other time ).
We then went to the City Centre market where we did a bit of shopping and browsing. Ryan, are you sure you don't need a pair of sunglasses?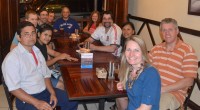 We got back to the hotel in the late afternoon and had some free time. We went for dinner for what was intended to be a light supper. Those that picked the hamburger got a HUGE surprise! There was nothing light about it!
The day ended with everyone playing Wizard. It was a fantastic day together and I feel so blessed to be able to be here with our team. Nicaragua is a beautiful country with amazing people. I look forward to the next week and I am realizing how quickly the time is going by. We still have lots of work to do but we will enjoy the down time and see what God has created here.
Roy