Leading up to Westheights' first Winterfest, the big question was do we pray for snow or no snow? Well, Todd prayed for no snow because he hates the cold, and Mimi prayed for a mountain of snow because she loves the cold. With conflicting prayers abounding, the result was still perfect weather.
At Westheights, we've discovered that our people are happy as long as there's opportunity to be in community. Well, lots of fabulous food is a bonus, too.
Thanks to our nine chefs who competed at our first chili cook-off! The chili was amazing, sometimes daring, always delicious. With "secret" ingredients like sweet potato, pineapple, bison and venison, there were many creative dishes, which made the judging difficult as judges graded the chilis from "heavenly" to "needs prayer."  Our competitors were: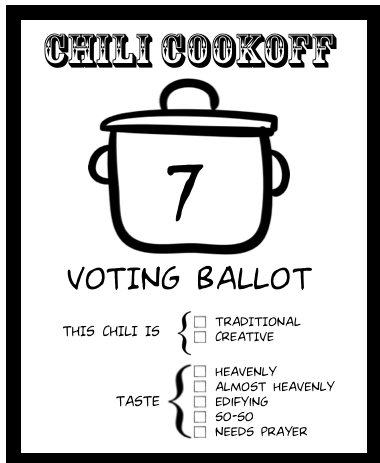 1. Tom Fenske
2. Al Harder
3. Tim Lee
4. Sherri Matthews
5. Alicia Sauve
6. Wendy Stirbet
7. Joel Vanwyck
8. Melanie Wigg
9. Jennifer Wolfe
Many thanks to Jen and Chris King who worked so hard to make this event happen.
Our first Winterfest was a huge hit. We'll let this video do the talking!