Last Sunday Jennifer King, Winterfest coordinator, crowned our first Chili Cook Off Champion, Melanie Wigg, who received the most "Heavenly" ballots for her winning chili, although it was a very close race with the second place chili just 1% behind.
Thanks to our nine chefs who competed at our first chili cook-off! The chili was amazing, sometimes daring, always delicious. With "secret" ingredients like sweet potato, pineapple, bison and venison, there were many creative dishes, which made the judging difficult as judges graded the chilis from "heavenly" to "needs prayer."  Our competitors were: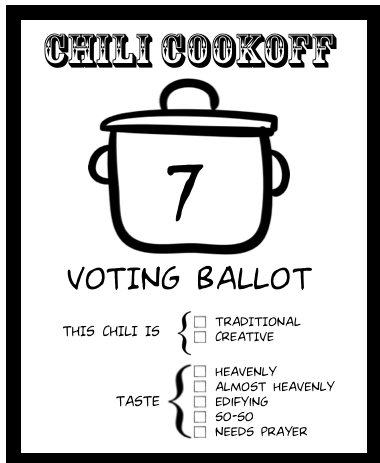 1. Tom Fenske
2. Al Harder
3. Tim Lee
4. Sherri Matthews
5. Alicia Sauve
6. Wendy Stirbet
7. Joel Vanwyck
8. Melanie Wigg
9. Jennifer Wolfe
We videotaped Sunday's auspicious coronation and are already looking forward to next year's Chili Cook Off when Melanie may have to relinquish her crown to 2017's Chili Champ.

Melanie's Chili Recipe
3 T. vegetable oil
1 large sweet onion, chopped
1 red pepper, chopped
6 cloves garlic (crushed through garlic press)
1 T. cumin
1/4 cup chili powder
2 lb. ground beef
1 1/2 t. kosher salt
1 can diced tomatoes (28 oz.)
1 can tomato sauce (398 ml)
1 1/2 cups red kidney beans (from can, rinsed and drained)
1 1/2 cups white kidney beans (from can, rinsed and drained)
1/4 cup pickled jalapeño peppers, coarsely chopped
green onions, sliced
shredded cheddar cheese
sour cream
Heat oil in large frying pan over medium high heat.  Cook onion and pepper in oil until tender, about 8 minutes.  Stir in garlic, cumin, and chili powder.  Cook for 1 minute.  Remove mixture from pan and set aside.
Put ground beef in frying pan and sprinkle with salt.  Brown beef over medium high heat until no longer pink.  Drain grease.  Add onion and pepper mixture to beef and stir to combine.
Put beef mixture in slow cooker.  Add tomatoes, tomato sauce, and kidney beans.  Stir to combine well.  Cover and cook on low for 8-10 hours.
Before serving, stir in jalapeño peppers.
Serve with green onions, cheddar cheese, and sour cream on the side.