We had the privilege of hearing from guest speaker Steve Hahn who was joined by his wife, Pat. This morning, Steve asked the question, "How do people carry on in times of weakness or abandonment, or when they find themselves in a fiery furnace?" During especially tough times, we wrestle to believe the promise that God doesn't leave us.
Sermon by Steve Hahn, August 21, 2016
"God, our feelings are screaming that you have ignored us but our faith rests in who You are."
Hebrews 11 – Hall of Faith Chapter
Hebrews 11:5  By faith Enoch was taken from this life, so that he did not experience death: "He could not be found, because God had taken him away." For before he was taken, he was commended as one who pleased God.
Hebrews 11:7  By faith Noah, when warned about things not yet seen, in holy fear built an ark to save his family. By his faith he condemned the world and became heir of the righteousness that is in keeping with faith.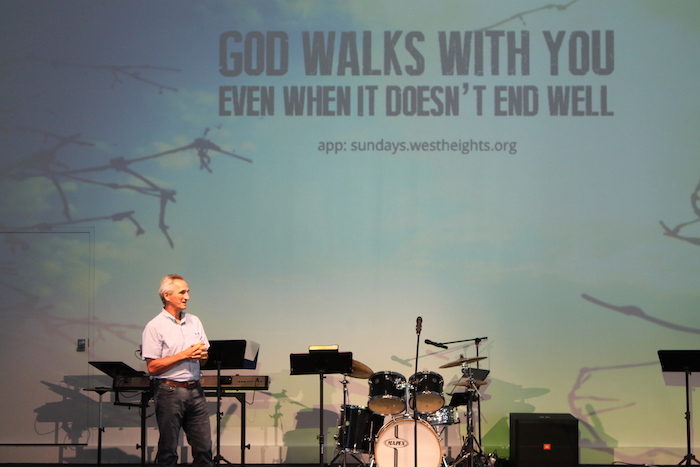 Hebrews 11:11  And by faith even Sarah, who was past childbearing age, was enabled to bear children because she considered him faithful who had made the promise.
Hebrews 11:17-19 By faith Abraham, when God tested him, offered Isaac as a sacrifice. He who had embraced the promises was about to sacrifice his one and only son,  even though God had said to him, "It is through Isaac that your offspring will be reckoned."  Abraham reasoned that God could even raise the dead, and so in a manner of speaking he did receive Isaac back from death.
Hebrews 11:22 By faith Joseph, when his end was near, spoke about the exodus of the Israelites from Egypt and gave instructions concerning the burial of his bones.
Hebrews 29-31  By faith the people passed through the Red Sea as on dry land; but when the Egyptians tried to do so, they were drowned. By faith the walls of Jericho fell, after the army had marched around them for seven days. By faith the prostitute Rahab, because she welcomed the spies, was not killed with those who were disobedient.
Hebrews 32-35 And what more shall I say? I do not have time to tell about Gideon, Barak, Samson and Jephthah, about David and Samuel and the prophets, who through faith conquered kingdoms, administered justice, and gained what was promised; who shut the mouths of lions, quenched the fury of the flames, and escaped the edge of the sword; whose weakness was turned to strength; and who became powerful in battle and routed foreign armies. Women received back their dead, raised to life again. There were others who were tortured, refusing to be released so that they might gain an even better resurrection.
BUT …
Hebrews 11:35-39 …There were others who were tortured, refusing to be released so that they might gain an even better resurrection. Some faced jeers and flogging, and even chains and imprisonment. They were put to death by stoning; they were sawed in two; they were killed by the sword. They went about in sheepskins and goatskins, destitute, persecuted and mistreated— the world was not worthy of them. They wandered in deserts and mountains, living in caves and in holes in the ground. These were all commended for their faith, yet none of them received what had been promised.
"Things don't always turn out the way you want them… He (God) has walked with me and He's lavished Himself on me and yet, like the son of Jonathan, I remain lame in both feet."
More information on Guillain-Barré Syndrome: www.ninds.nih.gov/disorders/gbs/gibs.htm
Jesus says, "In this world you will have trouble. But take heart! I have overcome the world" (John 16:33). There is not a single situation that comes into the lives of Jesus' followers where he doesn't inhabit it, he doesn't monitor it, and he doesn't have ultimate control over it. Even when it appears that darkness and distress are all we are able to see and feel, even when it appears that it is not going to end well, God is walking with us through it all.
Psalm 23: 4 Even though I walk through the darkest valley, I will fear no evil, for you are with me; your rod and your staff, they comfort me.
Steve Hahn's Bio: "I've been married for 34 years to wonderful wife, Pat. We have two great kids Kendra and Liam. Mike and Kendra have given us the two best grandkids ever, Owen and Spencer. Pastored for 26 years at a Missionary Church and currently with Promise Keepers for over 4 years. We love hanging out with people who are not yet disciples of Christ."

Podcast: Play in new window | Download
Subscribe: Apple Podcasts | Google Podcasts | Amazon Music | RSS