We were recently privileged to have Joel Thiessen come and speak at Westheights. With his wealth of research and data, his clear and concise delivery of information was surprising, super-manageable and understandable, and compelling.
Joel Thiessen is a sociologist of religion who specializes in religion in Canada. He obtained his MA and PhD at the University of Waterloo before heading to Calgary where he serves as Professor of Sociology at Ambrose University, and is passionate about learning and excellence, from the classroom instructing students, to the research field gathering data, to consulting settings bridging sociological knowledge with 'real world' concerns.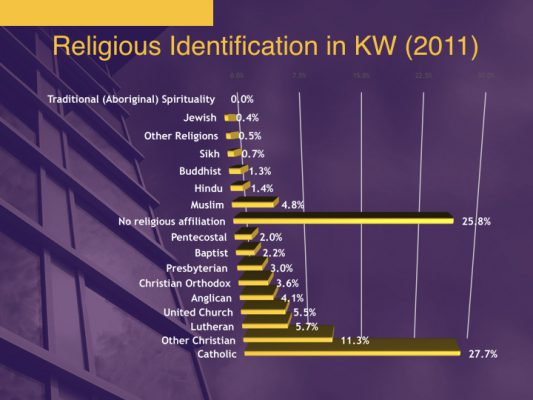 We learned about the roughly 25% of our neighbours who would check the "none" box when being asked about their religious affiliation:
The perception is that religious groups do not create the space for the kind of values they hold dear to their heart.- Dr. Joel Thiessen
WHY DECREASED INVOLVEMENT IN CHURCH?
Reject exclusivity
Life transition
Teenage choice
Too busy
Scandals/hypocrisy
Intellectual disagreement
Interpersonal tension
Social ties
HEARING FROM RELIGIOUS NONES
Open-minded and free
Supernatural: theists, deists, agnostics, and atheists
Meaning, purpose, and the afterlife
Morality is common sense
Aversion to imposed beliefs
ATTITUDES TOWARDS SOCIAL GROUPS AMONG NONES

On a scale of 1-10, where 1 is cooler feelings and 10 is warmer feelings:
Evangelicals
Religious person
Muslims
Sikhs
Spiritual person
Atheists
ATTITUDES TOWARDS SOCIAL GROUPS WEEKLY ATTENDERS

On a scale of 1-10, where 1 is cooler feelings and 10 is warmer feelings:
Atheists
Muslims
Sikhs
Evangelicals
Spiritual person
Religious person
If we are having this conversation about why people are leaving the church, I would say, sociologically, a poor starting point is having negative feelings about the group of people who are least like you. – Dr. Joel Thiessen
DESIRE GREATER INVOLVEMENT?
In a survey of people who previously attended church, when asked "to what extent do you agree or disagree with the following: I want to become more involved with a religious group in the future."
DESIRE GREATER INVOLVEMENT?
Account for these first …
Community
Marriage or children
Less exclusive
Change style/format
Live the faith
Location
Less busy
RETURNEES
Marriage, children, death
Personal invitation
Personal crises
Experienced community with people there
Close bonds with parents who are supportive and patient while child is in "exile"
BUT … most returnees do not stick around long-term
NOW WHAT?
Being missionaries in Canada
Personal relationships outside of Christianity
Look outward in your ministry
Prioritize faith development in the home
Parents who model and instruct and engage in dialogue with their children about faith within their home have the greatest chance of their children continuing to be actively involved in that religion in their adult years.-Dr. Joel Thiessen
Together we learned to listen well, to build friendships with no strings attached, to prioritize faith development at home, to look outward in our ministry and get involved in our neighbourhoods, and see ourselves as missionaries in Canada.

Podcast: Play in new window | Download
Subscribe: Apple Podcasts | Google Podcasts | Amazon Music | RSS