We extend our condolences to Amy (Sider) Terpstra, Meghan (Sider) Maendel and Nicole (Sider) Jackson on the passing away of their grandmother, Edith Sider-Schell, this past Monday. They were all close to their grandmother and will miss her dearly.
May God's presence be of comfort to the extended Sider family.
OBITUARY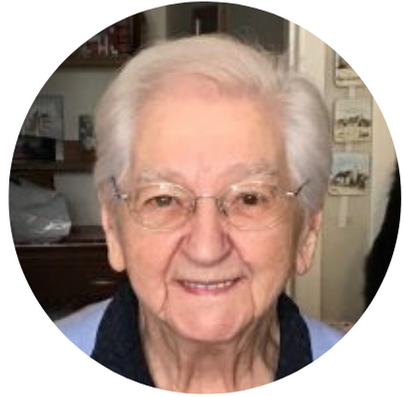 SIDER – SCHELL, Edith (Jewitt) Passed away peacefully surrounded by her family on Monday, February 25, 2019 at her residence, Nithview Community, New Hamburg. Edith was born 93 years ago in York County, a daughter of the late Edwin and Viola (Shantz) Jewitt. Beloved wife of Clifford Schell. Edith will be lovingly remembered by her children; Robert and Patricia Sider of Atwood, Roger and Virginia Sider of Wainfleet, Glenn and Susan Sider of New Dundee and Donna and Larry Hensley of Texas. Edith will be dearly missed by her 12 grand-children and 16 great-grandchildren. She is survived by her sisters Mildred Shaffer and Barbara Raddatz and by her sister-in-law Mary and husband Bernie Shantz. Edith is predeceased by her first husband Harold Sider in 1999, her daughter Carolyn and husband Mark Alles, daughter-in-law Margaret Sider, brother Clayton and wife Jean Jewitt and her brothers and sisters-in-law Howard and Alene Jewitt, Florence and Harold Snider, Ervin Jewitt and Shirley Jewitt.
Edith was a member of the Listowel Mennonite Church. Edith worked as a Dietary Aid in the Listowel Memorial Hospital and worked in many homes as a homemaker and fostered children over the years.
Relatives and friends are invited to the Listowel Mennonite Church, 465 Maitland Avenue South, Listowel, on Friday, March 1, 2019 from 2 – 4 and 7 – 9 p.m. and again on Saturday, March 2, 2019 from 10 – 10:45 a.m. the funeral service will follow at the church at 11:00 a.m. with Pastor Clare Lebold officiating. Spring interment to take place in the Fairview Cemetery, Listowel. As expressions of sympathy, donations to the Mennonite Central Committee or Camp Kahquah (Cheques Accepted) would be appreciated. Personal condolences and donation information available at www.markjutzifuneralhomes.ca
Funeral arrangements entrusted to the Mark Jutzi Funeral Home, New Hamburg.