There are a lot of books written about leadership.  Sometimes I think people should spend less time reading about leadership and more time "just leading something" but that is the subject of another post.  A recent read from Bill Hybels, called Axiom, however, was well worth the time and will be helpful to anyone in a leadership position in any organization.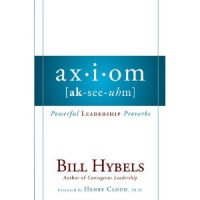 Hybels, if nothing else, is a highly gifted leader.  If you are not aware, Bill Hybels is the Senior Pastor of one of the largest churches in America, Willowcreek Community Church.  Willowcreek, over the past thirty years, has spawned a world wide movement of churches often promoting a style of ministry called "seeker-sensitive."   There is little question, history will remember Hybels as the D.L. Moody or Charles Spurgeon of our period.  One might rightly conclude that the success of Willowcreek Community Church is more about his innate giftedness (God given and natural) than the seeker services or any of the other cutting edge ministry events the church has provide over the past thirty years.  So when he shares "eighty powerful leadership proverbs", they are certainly worth your consideration.
My favourite leadership proverbs from the book:
"The speed of the leaders, the speed of the team"
"Facts are our friends"
"Doable hard versus destructive hard"
"DNA carries"
As is often the case with these kind of leadership books, the ideas proposed can easily lose sight of the principles and models proposed in the Bible.  As insightful as this book is, Hybel's "Hire tens" seems like a ridiculous concept when compared to Jesus' recruiting standards practiced in the gospels. "Hire tens" is a good idea for a megachurch but hardly the model of the New Testament or Jesus.  It can hardly be the model of most churches today who, truth be told, have to hire to a lower standard than "10".  Bishop Desdmond Tutu's quote helps on points like this: "I am a leader because nature does not allow a vacuum."  I am a pastor, not because I am a "10", but because I said to God "I am available" – I was willing.  God uses ordinary people to do extraordinary things – that way He gets the credit.  Perhaps it is justifiable to "hire tens" in a megachurch but it is not the model of the Bible nor is it realistic in the rest of the kindgom work.
The book is easy to read as each axiom is only a couple of pages and Hybels is a masterful communicator (as one of his axiom's demands "language matters") in terms of putting ideas in everyday language.  I found it to be one of those books that was hard to put down and definitely worth the time it took to read.