One time I was talking to a friend about the constant pace of change in our world and I said to my friend, somewhat in a defeated tone, "Change happens … what can you do but accept it."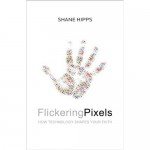 It is easy to become complacent and simply accept change, especially change with regards to technology, as inevitable and perhaps even harmless. However, with an attitude of ready acceptance there is a danger that we become intellectually lazy regarding consideration of the consequences of those changes. Perhaps not all technological changes are truly advancements as so many people believe. If you are interested in reawakening your intellectual critique of change, especially as it relates to the church and our theology, then I encourage you to read "Flickering Pixels."
If nothing else, Flickering Pixels, reminds us of how fundamentally, technology is affecting and changing how we think and feel. The author builds on and furthers, perhaps to an extreme, the mantra of Marshall McLuhan who said, the medium is the message.
The author, Shane Hipps, is a teaching pastor at Mars Hill Church, but was formerly an advertising executive with Porsche, so this past experience contributes to his insight in writing this book.
His book is very helpful at pointing out that the evolution of technology brings with it many consequences. We need to consider those consequences and be better prepared to consider the impact it has on us and the people in our church. He does not make a moral conclusion on the matter but he does successfully persuade the reader to consider the impact of technology. He proposes, and I agree, through careful consideration we can minimize the negative affect technology has on our lives and values. It is well worth reading.