This item has been sold.
Interested in an iPod touch? We have one. It is in very good condition with the latest software installed. It has the typical scratches on the back of it that the chrome picks up over time. Leave a comment below and I will get in touch with you.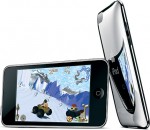 It is the iPod Touch 2G with 8 GB of storage. Headphone are not included but I will provide a sync cable.
Price: $90.00