Bethany church had a float in today's Santa Claus parade promoting their upcoming outdoor Christmas Pageant. Seventeen people from Westheights church joined the Bethany team in the parade, all in period costumes (see the picture below)!
It was a lot of fun being in the parade. Many of us were "town folk" who were sitting on bails of hay on the flatbed truck which was the float. Some were dressed as angels in an angelic group standing at the front of the float. Some chose to walk beside the float, interacting with the crowd and handing out invitations to the free upcoming pageant at Bethany.
There was a lot of waving and wishing "Merry Christmas." Have you ever tried to wave continuously for almost two hours? Heavy hands, a permanent smile afixed to our faces after so long, and sore throats from calling out to the crowd above the sound of the happy music. It was a lot of fun!
Of course, some might say that the casting of Tim Lee as a "wiseman" might have been a bit off the mark, but that can be the topic of another post  🙂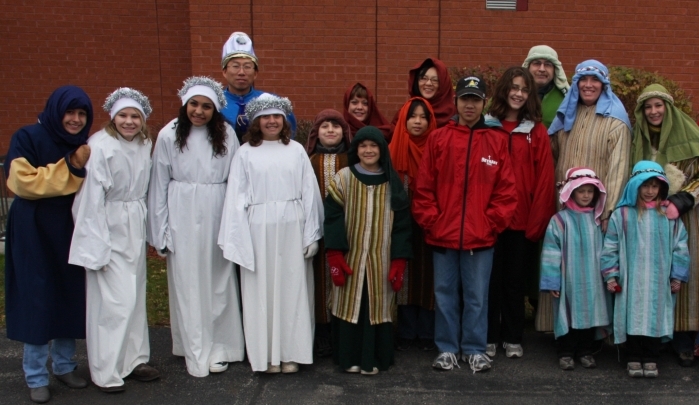 For those on Facebook, also see Gillian Fenske's pictures which she took at the parade when the Bethany float went by.