The theme for Advent this year at Westheights is called The Advent Conspiracy. During this time we are encouraging the people in our church to re-imagine Christmas. Rather than just go through the same (sometimes thoughtless) rituals ask yourself, "What could I do differently?" "Where could I make adjustments in my spending so that I could become more generous to the needs of this world and not just my own family?" Traditions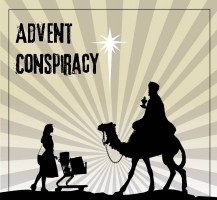 are great, especially at Christmas, but it is important to once in a while stop and reflect and ask, "Why are we doing this?"
I found a great article in Faith Today that describes very much what we are emphasizing in our church this Advent. Take a look at the article and let me know what you think.
The article is called Five Steps to a Simpler (and Holier) Christmas.  It can be found by clicking on the link http://digital.faithtoday.ca/faithtoday/20101112?sub_id=EFQsxJR8wsQe&folio=36#pg36
According to the EFC website, Faith Today, one of Canada's leading Christian magazines, exists to connect, equip and inform Evangelicals in Canada.