Christmas morning is so much nicer now that the kids are older. We get to sleep into until 8:00 am. When the girls were younger we would get awoken every 20 minutes beginning about 5:00 am with their begging pleas to open their presents. They still get pretty excited about receiving their gifts. Especially the tickets to go see Buddy from Cake Boss (I don't know who he is either) at Centre in the Square. In the picture they are playing with one of their gifts, a game called Scategories.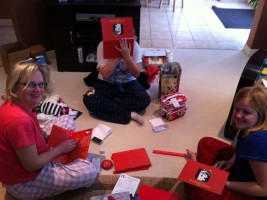 Hope you are having a wonderful morning with your family and friends opening gifts and having a late breakfast.
What are your favourite gifts from your Christmas morning? I got a new coffee maker. Yahoo! Going to try it out in the next few minutes.