Many people ask me, "Does God still speak to people?"  My answer is always, "Yes, but…." I answer that way because I believe that God does speak to people but I also have to say that I don't believe that I have ever heard the audible voice of God. So any book that brings some clarity to this age old question and struggle is welcomed. Bill Hybels, The Power of a Whisper, is one such book.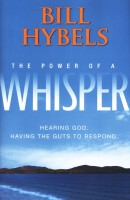 In his book, Hybels outlines his life long experience hearing the whisper of God's voice in his life.  The book is really helpful and does very well to explain the various methods and ways that God might speak to people.
Hybels, being a pastor readily knows that the temptation by people to confuse their own desires with the voice of God so he provides some filters to test the voice of God in your life. I have suggested the same kind of ideas in my own teaching but I really like the word filter. It conveys the right approach, in that, anytime you believe you have heard from God, you should pass it through a certain amount of Biblical scrutiny.  Not because you do not believe in God but because you believe in the power of the self-deception of the human heart.
In considering my own experience in this area, "whisper" seems like an adequate description or motif for the voice of God. As typical of modern writing and teaching, including my own, the motif can he taken too far. Paul's experience on the Damascus road hardly seems like a whisper. Enough said on that but you get my point.
The book is typical of Willowcreeek materials. It is high on practicality and personal stories and lower on theology. I don't consider that at all a criticism, these people know who they are writing to and are very good at it. Just don't expect it to be a theological treatment on the subject or you will be disappointed.
The subtitle is "Hearing God and having the guts to respond." I really like that. I really hope that is true for my life. I highly recommend the book if that is your desire too.