On February 26 and March 5, 2011, Waterloo Region Worships (WRW) will be holding a worship night at Waterloo Pentecostal Assembly (Feb 26) and at Forward Baptist Church (March 5).  These worship nights are identical and will be held from 7-9pm.  This is a chance for the Church of Waterloo Region to gather as a united body to pray and worship together.  WRW was formed in 2002 to unite churches in our region in worship.  I have attended several of these worship events in past years, and they are well worth attending.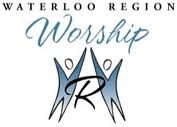 In past years, WRW has held a single event in the region annually.  But due to increased popularity, they are expanding this year to two identical events – one in Waterloo (February 26), and one in Cambridge (March 5).  They are expecting over 1000 people at each event.  The band and mass choir is actually made from worship leaders representing nearly 20 churches.  You can check out WRW's website at www.wrw.ca.
Tickets are not required, and the event is free, with an offering.
Addresses for the 2 locations are as follows:
Waterloo Pentecostal Assembly (Feb 26) : 395 King St. N, Waterloo
Forward Baptist Church (March 5) : 455 Myers Road, Cambridge