We have been in Leon, Nicaragua for a few days now.  This is a country that I have grown to love in a very short time period.  The people are so friendly and loving.  In my time last year in Rama and I was able to get the full experience of going on a missions trip.  It is a wonderful thing to see the look on the faces of each person in the group, as they experience things for the first time. It is an honour to be able to organize this trip on behalf of Westheights.
When I go on a missions trip, it feels that I am closer connected to our Lord.  I am sure that it is not just being in Nicaragua, but being on a missions trip in general.  To spend our day, working with the local people here, building their church is wonderful.  I love seeing the smiling faces of the children as they participate in the kids activities.  To see the bond that is already forming between the kids and their leaders is great.  We had church service with them last night and it was great to experience the way that they worship.
The people here are not blessed financially the way we are, but that does not discourage their attitudes, feelings or outlook on life.  They are happy with the things that they have.  They pray for everything.  Things like food, shelter, etc are things that we take for granted, are prayed for on a constant basis.  I feel proud to be able to bring some happiness or some encouragement to these people.
Today the leaders from the National BIC Conference visited us and told us how they were blessed by us coming here.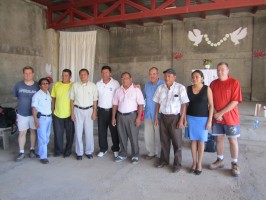 It is great that we are able to help them, but the truth is that this experience is changing our lives.  It is helping us grow spiritually, by doing God's work, by showing his love and we are only the instrument that he is using. The picture is myself, Todd and the National Church Leaders from Nicaragua.
God bless to all who are supporting us, through financial contributions, prayer and emotional support.  We could not have done everything without you.