Westheights Church Library review of the book "The Dream Giver" by author Bruce Wilkinson (call no. 248.4).  Reviewed by Meg Slater.
Here is a challenging book. It is one of those reads that one struggles, then after finishing it the thoughts begin to "percolate". What was the message? How does it figure in my life? In the big picture?  Of our society?  In our world?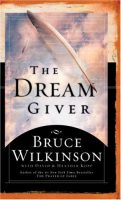 The author, Bruce Wilkinson, describes the first half of the book as a parable.  There is "Ordinary" who is a Nobody, living in Familiar. Ordinary begins to have uneasiness that something is missing in his life. Then begins his journey to pursue his Dream.
He meets all kinds of obstacles. Wilkinson relates often to Biblical references in "Boundary Bullies", "Giants in the Valley" and "Wastelands". Ordinary does meet his Dream but then the Dream Giver asks for it! This starts to make some connections to our belief system.
The Second half of the book is a dialogue between the Dreamer (the reader) and the Dream Coach (Wilkinson, the author). You are guided to search out your Dream.
I found the most important part of the message was that God is the Dream Giver and has put a Dream within each one of us, and He wants us to pursue it, find it, and then, of all things, give it back to Him!!!
And that is so true, because if we hold onto our Dream, when we get it, it becomes a "god" and that leads to destruction, whereas if we give it back to God, He then gives it to us to use as His work.
A very interesting book!