Hey Junior Highs! Join us on Saturday, May 7th for an afternoon of mini golf at Max's Golf Centre near St. Jacobs!
We will be planning to use the outdoor gold courses at Max's so please dress appropriately. If the weather is bad, however, we plan to move to their new mini putt course under the dome. Cost for the event is $5.50 per person. Be sure to bring some extra money for snacks from the snack bar if you are interested. We will be meeting at Max's at 1:00pm and will play and hang out until 2:30pm.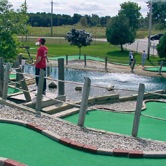 Please RSVP to Tom and Gillian at 519-741-1986 ext. 805 or youth@westheights.org. Feel free to bring your friends!
INFO AT-A-GLANCE:
Who? WSM Jr. Highs and their friends
Where? Max's Golf Centre (800 King Street North, Waterloo, Ontario, N2J 4G8)
When? Saturday, May 7th from 1:00pm to 2:30pm
How much? $5.50 per person (plus any money for snacks)