Pitch & Praise is an annual event with a lot of history. You likely know someone who has been deeply impacted by this event, whether you know it or not. You are NOT going to want to miss this, Senior Highs!

The Pitch & Praise website describes it this way:
"Pitch & Praise is a camping retreat for high school students that draws nearly 2,000 people to Braeside Camp in Paris, Ontario, on the long weekend in May. There's something for everyone at Pitch. The weekend includes sports tournaments, concerts, games rooms, skateboarding, movies, optional seminars, swimming, talent shows, comedy acts, an open-mic stage, teaching sessions, small group interaction and more. About a dozen denominations are represented at this event which has been running now, for 36 years. Come and join us!"
We are looking for parents who would be willing to drive students to Paris, ON and back. If you can help out, please contact Tom or Gillian Fenske at 519-741-1986 ext. 805 or youth@westheights.org. As well, we would LOVE to borrow a tent-trailer for the event! If you have any leads on someone who might be willing to lend us a warm place to sleep for the weekend, please don't hesitate to contact us!! 🙂
Be sure to get your Pitch forms in, Sr. Highs! They can be downloaded from pitchandpraise.com (click on 'Individual Registration Form' in the left sidebar). As well, be sure to print off a Skate Park Waiver Form if you are interested in using the skate park. Don't forget that you can invite your friends!
This is an amazing event… we hope you'll join us as we explore how Jesus calls us to "RE view our outlook on the world, our engagement with it, and especially, our engagement with Him."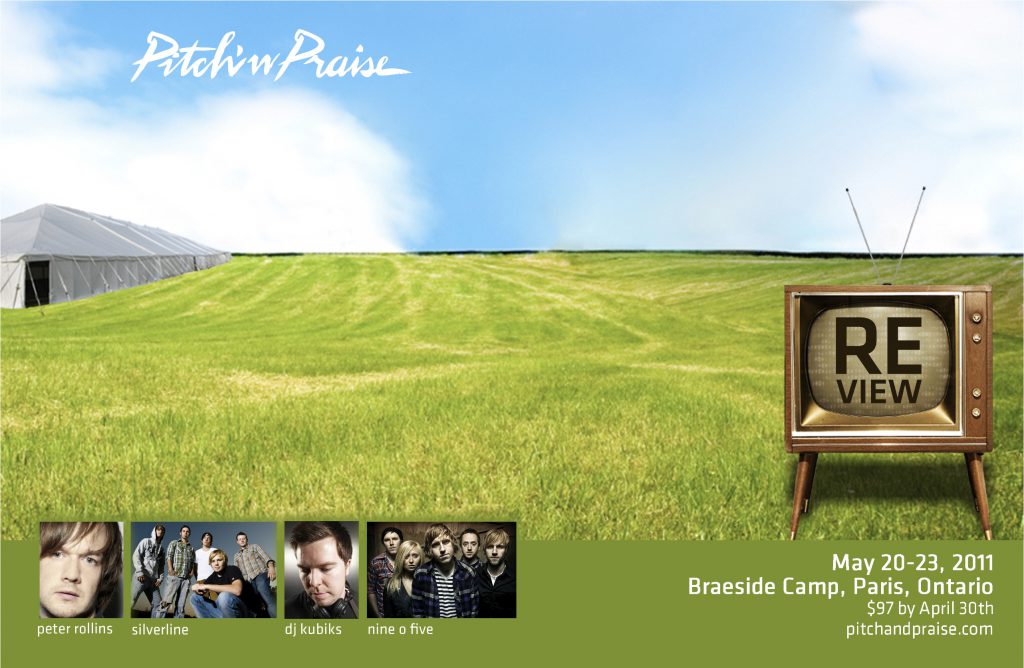 REMINDERS FOR STUDENTS COMING TO PITCH:
We're planning to play ball hockey on Saturday afternoon and volleyball on Sunday afternoon, just like last year! Don't forget to bring gear (including sneakers and hockey sticks!) so you're ready to play, or get ready to cheer like crazy from the sidelines. Goooooo Westheights!
We will be leaving for Braeside from Westheights at 5:30pm on Friday, May 20 and will be returning home at around 1:30pm on Monday, May 23rd. Students should have eaten dinner before meeting at the church on Friday. Please remember to bring extra money if you would like snacks from the concession stand or if you want to go swimming. Please remember to bring WARM and WATERPROOF clothing in case in gets cold/rainy and a good sleeping bag so you stay toasty overnight. Don't forget toiletries, a towel, your Bible and Dutch Blitz. (Please… someone bring Dutch Blitz!!) Please do not bring anything that will make you cry if lost or stolen or anything you agreed not to bring in the Student Cooperation Agreement (drugs, weapons, fireworks) …obviously!
We also ask that cell phone and gadget use is kept to a minimum during the weekend. More things to remember:
Be respectful of other people at all times. That means not being too noisy late at night, being careful with camp/camper property… generally just be sure to show love in all cases!
No girls in guys' tents – no guys in girls' tents. We're going to make this a general rule for the sake of privacy (if someone wants to have a nap/go to bed early, get changed, or whatever).
All General Sessions are mandatory. Nothing else is mandatory… but General Sessions are a MUST.
Do not leave the camp property. If you must go, you need to get permission from Tom or Gillian.
We'd love prayer for this amazing weekend – that it would be impactful, fun and safe for everyone in attendance!