I have not written this post in a while. It is not that I quit reading but I have been so busy with the beginning of fall activities that I neglected my weekly blog posts. This week I read a book called Chris Tomlin: The Way I Was Made.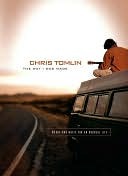 This is a short biography from Chris Tomlin about his pathway to becoming the most commercially successful christian worship leader of our generation. I love music so I quite enjoyed a peek into his life. I found his faith steps to be inspiring and encouraging. Some of his stories, for example his first paid concert, are absolutely hilarious. I was laughing out loud as he describes the music minister who turns the volume down to zero and tells Tomlin that God has called him as music minister to be the "steward of the human ear."
Tomlin also provides the background and context from which some of his popular songs developed. History to songs and hymns has always been a personal point of interest so I found these sections of his writing of particular interest. I was not aware that the song "Enough" came from the context of 9-11. It helps bring the song to life to know that as I listen to it and sing it.
The book is very easy to read. Truthfully, Tomlin is much better at writing music than writing books. However, if you like Christian music then I am sure you listen to Chris Tomlin and would enjoy this book about the person behind so many of the songs we sing Sunday after Sunday.