Sign-up to automatically receive new blog postings, such as the Nicaragua team daily updates, by email. (This is the first in five posts this week on how to use technology to keep up-to-date on the Nicaragua team's activities!)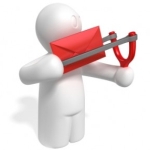 Our "Connect Blog" uses a service called Feedburner to automatically send any new blog postings in an email message each evening (just after 7pm).
Some people are already using it. For others, it is an easy way to find out about upcoming events and, more specifically, the Nicaragua Team daily updates. Once set up, the postings come to your mailbox without you lifting a finger.
Just click the following link, enter your email address, enter the random word that is displayed, and click the button:
http://feedburner.google.com/fb/a/mailverify?uri=WestheightsConnect
This will send you a confirmation email message. Click the link in the confirmation email message, and you're all set-up!
(You can unsubscribe at any time, e.g. after the team returns home if you wish.)
Get signed up now so you don't miss any of the updates! NOTE: You must click the link in the confirmation message or you won't receive the emails 🙂
If you have any questions about this, just let us know at support@westheights.org