Team Westheights is one hard working short-term missions team. Everyone is happiest when there is lots of work to do (or when we go for ice cream).
The team is gelling together so well. Everyone has put their agenda aside and is serving the church here in Masaya in whatever way is required. The project has had some unexpected surprises but working in Nicaragua requires two things: a good attitude and flexible attitude. We are making good progress on the second floor of the building. Another group of guys is working on digging holes to reinforce the foundation.
A highlight for me has been to experience the church in Masaya. The church in Leon that we helped last year had been through some difficult times and had lost most of the people. It was small and struggling. The church in Masaya is the opposite. It is dynamic and alive and thriving. The music is really loud and contemporary in style so I am having a great time. Melanie and the Pastor's wife have co-led the worship and it has been really fun to be part of this bi-lingual service where we are all singing the songs of worship we have in common between Canada and Nicaragua.
The kids program has been great with lots of kids attending the afternoon sessions. The kids are well behaved and good to work with despite the language barrier between them and us. They are beautiful children who live in impoverished conditions but they are happy and just like kids in Canada in so many regards.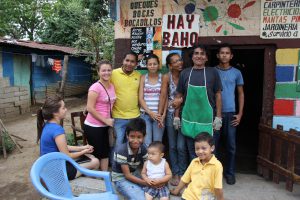 One of the boys in the kids club is Gersten. He was in desperate need of new shoes so Cathy Burns arranged to get new shoes for him. To thank us Gersten invited us to their home. If you can see it in the picture it is a sprawling shanty style house made of scrap metal, branches and a dirt floor. There is extended large family all living in this house. The house felt more like a fort that kids would build than an actual house to live in. It is amazing the primitive living conditions the people accept as normal in Nicaragua. Seeing where this boy lived was a tremendous eye opener for all of us.
Keep praying for us. There is a lot to do yet and the team will likely tire throughout the week with the heat and working conditions being as they are here.
Look forward to seeing all of you when we get home.
Here are some pictures from the day (click any photo for a larger version):