The Senior High students are collecting items for Mennonite Central Committee's Hygiene Kits, and we need your help! We're looking for donations of toothbrushes, toothpaste, fingernail clippers or dark coloured hand towels. Feel free to pick up a variety of items or multiples of the same item. And remember… every little bit helps!
According to the MCC website, "Hygiene kits are often presented to children living in refugee camps who do not have access to hygiene supplies. Some are given to women in rural education centers to encourage health care. People in such countries as Bosnia and Herzegovina, Haiti, Nicaragua, North Korea, Russia, Serbia and Ukraine have received hygiene kits in the past few years." For more information about MCC Hygiene Kits, click here.
Apparently the MCC office is will stocked when it comes to bars of bath soap, however the other four items are required.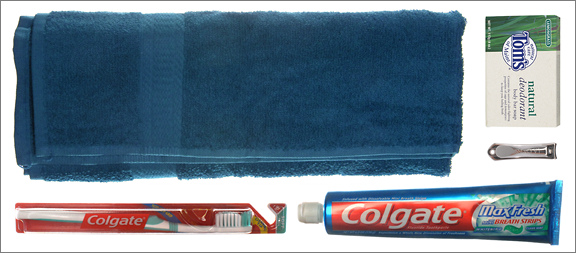 We are looking to collect as many of the following NEW items as possible:
toothbrushes (adult size; leave in wrapper)
squeeze-tube toothpaste (minimum 130ml / 6oz; leave in box)
fingernail clippers
hand towels (larger than fingertip, dark color)
Any donations can be given to a Senior High student (students: bring any items you collect with you on a Thursday night or a Sunday morning) or dropped off in Tom or Gillian Fenske's cubicle in the Westheights Office Complex.
We will be collecting these items from now until March 22nd, when we will be heading as a group to the MCC Head Office in Kitchener to put the kits together, knot quilts and learn more about the work Mennonite Central Committee is doing worldwide. For more information about what the Sr. High students will be doing later on this month click here.
Thank you for your help!