Shalom Counselling Services' annual fundraising breakfast will be held this year on Saturday, May 5, 2012 at 8:30 a.m. at St. Jacobs Mennonite Church, 1310 King St. N., St. Jacobs.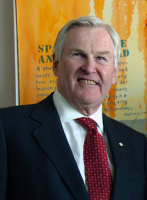 Guest speaker is the Honourable Michael Wilson, former federal Minister of Finance (1984-1991), Minister of Industry Science and Technology, Minister International Trade, and Canadian Ambassador to United States (2006-2009). Mr. Wilson is a passionate about combatting the stigma of mental illness and will be speaking on Mental Illness: The Cost of Doing Nothing. See further details by clicking here.
Tickets are $20 and must be purchased in advance by April 30, 2012. For tickets call the Shalom office at 519-886-9690.