Westheights kids and students… the children of the world need your help! While you are out picking up school supplies for the fall, consider picking up a few extra items to add to our collection for Mennonite Central Committee's school supplies drive. We know that together we can make a big difference. Please give generously and extravagantly… in honour of our Father, the ultimate Giver!
Bring your supplies to Westheights anytime between now and Sunday, Sept 16, 2012. For more information, click here.
Check below for what makes up a complete school kit, but feel free to donate any number of whichever item(s) you like!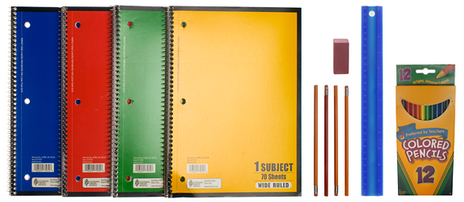 School kit supplies (NEW items of high-quality brands only please):
4 spiral or perforated notebooks (about 21.5cm x 27cm / 8.5in x 10.5in and 140 pages)
4 unsharpened pencils
1 ruler (flat, flexible plastic; indicating both 30cm and 12in)
12 colored pencils (in packaging)
1 large pencil eraser