Colossians 3:1-3(NLT) – Since you have been raised to new life with Christ, set your sights on the realities of heaven, where Christ sits in the place of honor at God's right hand. Think about the things of heaven, not the things of earth. For you died to this life, and your real life is hidden with Christ in God.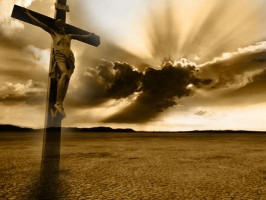 I like this verse from Colossians it helps me adjust my perspective when I get preoccupied with having something or with just my day to day life.
The same passage in THE MESSAGE Paraphrase: So if you're serious about living this new resurrection life with Christ, act like it. Pursue the things over which Christ presides. Don't shuffle along, eyes to the ground, absorbed with the things right in front of you. Look up, and be alert to what is going on around Christ—that's where the action is. See things from his perspective. Your old life is dead. Your new life, which is your real life—even though invisible to spectators—is with Christ in God. He is your life. When Christ (your real life, remember) shows up again on this earth, you'll show up, too—the real you, the glorious you. Meanwhile, be content with obscurity, like Christ.