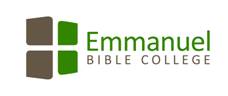 Emmanuel Bible College is accepting applications for the position of Accounting Associate/Financial Aid Officer.
Resumes will be accepted until August 14, 2013.
The Accounting Associate/Financial Aid Officer position is half-time in the Business Office. This person provides assistance to students seeking financial aid through OSAP and US Federal Aid, and will be
responsible for some accounting functions and reporting. Strong accounting skills, attention to detail,
a self-starter, and able to work independently are a must. Strong relational skills are also required for
the job as this person works closely with students, assisting them in their financial aid process.
Start Date: August 21, 2013
Resumes may be sent to:
Emmanuel Bible College-Anita Boles
100 Fergus Ave
Kitchener, ON N2A 2H2
Phone: 519-894-8900 Ext. 223
Email: aboles@emmanuelbiblecollege.ca