There's nothing like a nice leisurely ride down a wide shaded community trail in the afternoon, through wooded areas, beside a lazy, meandering river, with a cool breeze in your face as you casually ride with a group of fellow-minded cyclists.
Aaaaaahhhhhhh, the outdoors. The fresh air. The sound of running water in the nearby river. The lack of PCs and TVs.
This Sunday, July 28th at 3pm we are trying out a new cycling trail. It starts at Riverside Park in Cambridge and goes along the Speed River, through two conservation areas, over trail bridges, over boardwalks, and through a variety of scenery.
It's a fairly level trail and it's mostly shaded. Much of the trail goes through (is cut out of) wooded areas or runs beside them. The Speed River is a constant companion on this ride coming close on and off throughout the ride.
We will take a short break beside a small waterfall where a Mill used to be on the river.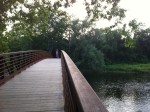 Joel and I just re-rode this ride today (July 24th) to ensure that there are no trees blocking the path due to the recent storm. We discovered that all such trees have been cut up and moved off of the path. So we're good to go for Sunday!
If you have a bike and a way to get it to and from the starting location, please join us. If you haven't yet signed a cycling safety waiver, we will have blank forms you can sign at the starting location.
This should be a great ride. Please join us!
A map showing the exact starting location, and map of the ride route, can be found on the July 28th Ride Detail Page on the cycling website. Check it out!
Hope you can join us this Sunday! 🙂