I was one of six people from Westheights that participated in last year's Ride for Refuge. It was a blast!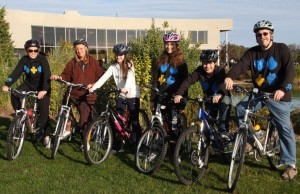 As soon as we were done our ride and were sitting at a table in the gym eating some food, drinking some refreshments and comparing experiences with other riders, I was already thinking about next year's ride. And my daughter said to me, "10 km just got me warmed up, I think I'll do 25 km next year." (there are 10, 25 or 50 km rides)
It was a unique experience seeing how well organized this event was; how they got everyone registered, instructed, hyped, and ready to go, including the staging of hundreds of cyclists leaving in waves over a short period of time. It's quite a sight — especially with many of the riders in the ride t-shirts: children, teenagers, and adults of a wide variety of ages all enjoying a ride together for a good cause.
Ride with us Saturday, October 5th in the Ride for Refuge, a fantastically fun, family-friendly bike-a-thon that supports 175+ charities who serve the displaced, vulnerable, and exploited.
One of those charities is the "Westheights Nicaragua Project" — providing funds for our our upcoming short-term missions project. The fundraising from our cyclists will go to this project!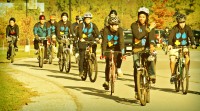 On Oct 5th, the Ride will be taking place in 24 locations across Canada (and more in the USA). We will be riding from the Waterloo location. ("We" = cyclists from Westheights!)
You can ride at your own pace and there are rest stops with water to drink.
So, let's all be part of this important and fun event! We need cyclists, team captains, people to sponsor our cyclists, and people to encourage us and to pray for safety and a great time! 🙂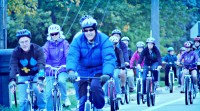 Question: Some have asked why we need multiple team captains? We have been encouraged by the Ride to create many small teams of cyclists instead of putting everyone together in a single team. In this way, people can:
Create a crazy, cool, wild name for your team
Put together 3 or more cyclists in your team
Every cyclist needs to either create a team or join an existing team — the more teams, the more choice 🙂
(everyone in a given team does not need to ride the same route length on Ride day, each person selects their own ride length)
Each team needs a designated team captain. Team captains will also be provided with a list of suggestions to help rally and encourage your team.
Please contact Doug if you'd like to be a team captain and I'll give you the instructions for signing up your team. (You don't need to know who might be on your team before creating a team, but you will need to know what your cool team name will be and you cannot change the team name later 🙂
All team and rider signups use a fully automatic self-serve website. (More on this later, it's real easy to use.)
We'll be writing additional blog articles about more fun details of the Ride. But let's start to create the teams now.
This ride is a neat experience! — See the Ride for Refuge Website