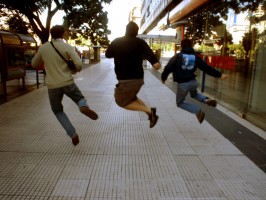 WHO: Men of ALL ages from ALL walks of life!
WHAT: This Men's Retreat is an open invitation to come out and get to know some other brothers who can walk alongside you and lift you up – or be lifted up by you, wherever you may be at in your life. No expectations, no judgment, just men being men (whatever that means to you) together. We'll have some time of teaching, sharing, worship, quiet time, relaxing and hanging out and PLENTY OF FOOD! (You get five generous meals and two snacks during this two night stay.)
WHY: Men of Westheights, picture this – Men of integrity, listening, praying, worshiping and following Christ. Speaking openly of successes and failures, challenges and triumphs and simply sharing our stories. It is Christ who unites us, strengthens us, and empowers us with boldness. We know that: "Two are better than one, because they have a good reward for their labour. For if they fall, one will lift up his companion." (Ecclesiastes 4:9)
WHEN: Fri, Oct 4 @ 6:30pm (registration begins) to Sun, Oct 6 @ 1:30pm (after lunch)
WHERE: Woodhouse Facility, Hidden Acres, New Hamburg
WHAT NOW: Register, invite a friend, ask questions if you have any …
Alex W
Randy B
Jason J
COST:
Option 1: Full Retreat (2 nights, 5 meals, 2 snacks) – $133
Please consider the following options
only if absolutely necessary …
Option 2: Sat. Night only (5 meals, 2 snacks) – $113
Option 3: Day Visitor only (no overnight, but attending
Fri, Sat, Sun during daytime,
incl 5 meals, 2 snacks) – $78
WHAT TO BRING:
Bible and pen
Indoor shoes
Bedding (pillowcase and flat sheet or sleeping bag)
Towel
Lawn chair
Sports equipment (e.g. football, baseball glove)
DEADLINE: Wednesday, Sept 25
Hand in the registration form to Alex Wang, Randy Buhrow or Jason Jantzi along with cheque (payable to Westheights Community Church with Men's Retreat in the memo line).
NOTE: Financial assistance is available on a case by case situation – please contact any member of the church leadership or the Men's Retreat Planning Team if you have concerns about cost.
MEN'S RETREAT PLANNING TEAM:
Todd Lester, Tom Fenske, Randy Buhrow, Jason Jantzi, Terry Kreutzkamp, Ted Scott, Alex Wang
PICK UP YOUR REGISTRATION FORM FROM THE BACK TABLE AT WESTHEIGHTS CHURCH.
(edit 2022: For privacy purposes, edits were made to the post)