Hello, Parents of SK-Grade 5 Kids!
It's January 2nd…Do you know where your bear puppets are?
Only a few days left of school vacation…The perfect time to finish off those teddy puppets so they can be returned ASAP to the church!
We have one month before Team Nicaragua leaves, and there are many bears out there in the "design and make" stage. Please try to have your bears back to the church by Sunday, January 19th at the latest–preferably earlier, so that our team of sewing wonders can sew steadily and not be inundated (and run out of time) at the end of the month!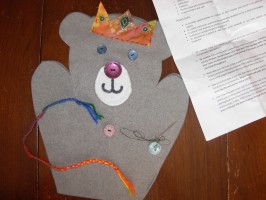 If your child is still working to buy a teddy, please have him or her bring the $3 to the church this Sunday (January 5th) or next Sunday (January 12th) so that it can be finished and returned as soon as possible. We do have a few more to sell!
Also, because of the generous donation of one of our On Your Mark! leaders, we have 16 bears available for any child(ren) who did not have $3 to spend on a bear, but who would like to work on one (or more) with a special grown-up! Grandparents, how about taking on this service project with a grandchild…?
Thanks so much to everyone for making this service project so meaningful. It was definitely a family endeavour, as attaching those buttons and pretties was tricky, because we used such a durable fabric! Here's hoping these bears will bring cheer to children for a long while, and that you made some good memories working as God's stewards together.