This coming Sunday (March 30, 2014), Westheights Students and Kids (SK-Grade 5) will be heading next door to Forest Heights Long Term Care Centre to lead the Sunday service there…They have been diligently practising readings, stories, drama, dances, and percussion in honour of the Great Shepherd, with the hope that He will minister to residents and their families as they share their work.
Many thanks to Jenn King, who came to speak to us last Sunday about what it might be like to live in a long term care centre, and some things we need to know to be comfortable with the residents.
And thanks, Moms, Dads and grandparents for shuttling on Sundays and to all the necessary rehearsals. We love watching how God is working through your kids! Pray for their ministry, and for their love for the Shepherd to grow through this unique experience.
Parents of participants, be sure to read through the Final Instructions below. See you Sunday at ~9:20am for our final run-through. Note that there are two sets of instructions: one for the younger kids; the other for the Jr and Sr Highs.
FINAL INSTRUCTIONS FOR KIDS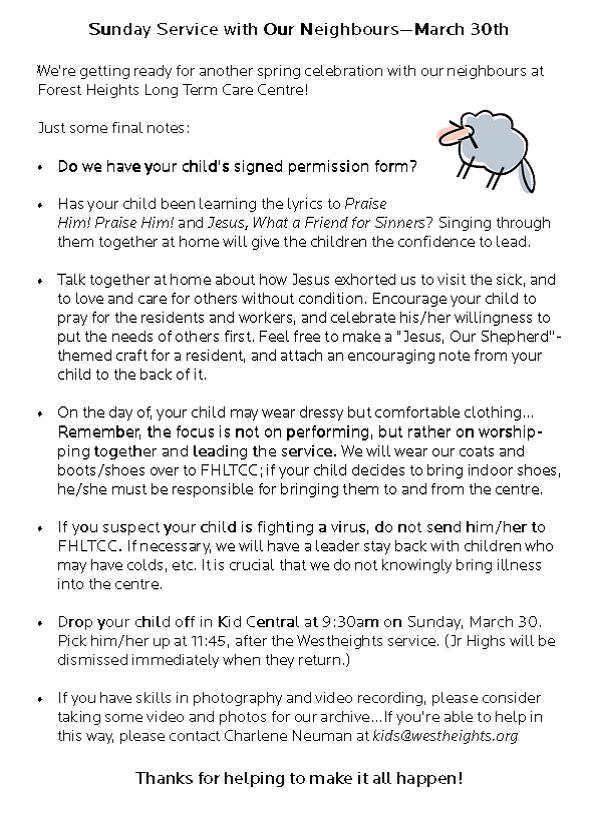 FINAL INSTRUCTIONS FOR JR AND SR HIGHS